Pet enthusiasts cherish an opportunity to access a reliable, one-stop store for their furry friends' unending needs. Unfortunately, such stores are hard to come along, although we can't rule out the possibility of their existence. However, getting an affordable store that delivers high-quality pet products is extremely hard, as most of the options accessible online mostly offer pet products at an extremely high cost.
BarkBox Pet Subscription Box
BarkBox is a common name for pet enthusiasts looking for a great store for all their pets' needs. The platform is a monthly subscription box for any pet services you need, from ready meals, treats, clothes, and beauty products. Besides, the platform's unique subscription nature makes your shopping experience inimitable.
There are multiple subscription options for all the site's users. BarkBox is also among the most popular dog products' delivery platform, having delivered over 2 million boxes to pet enthusiasts since 2012. As earlier noted, the platform has a unique subscription nature. This offers an incredible experience to busy pet lovers who might lack the time to pick the best toys for their furry friends. Besides, the offer is ideal for pet enthusiasts lacking knowledge of what would work best for their pets and those who like spoiling their furry friends.
My shopping experience at BarkBox left me stunned, especially because of their incredible choice of dog products. I am almost certain that nothing can go wrong with BarkBox subscriptions, as the experience gained has helped me write this review to help you know if the site is well worth the subscription cost.
How Does BarkBox Work?
In the simplest explanation, BarkBox delivers a box of pet treats, toys, and accessories monthly to its subscribers. Besides the monthly toys', treats', and accessories' delivery, the platform has a unique theme for each box. For instance, you can get a collection of holiday-themed toys and treats for your pet at a given month and a box of ideally crafted chewing toys during the following month. The components of each box are;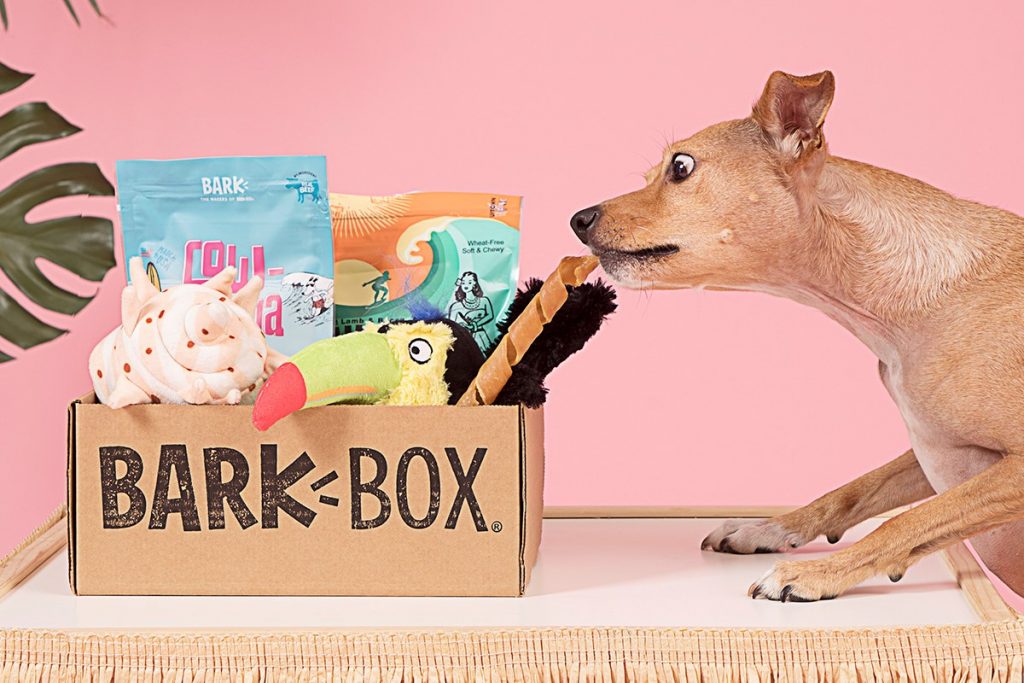 A pair of innovative toys
A pair of natural treats
A Chew
An exclusively curated piece that goes in line with the month's theme
Experts design these products, and before selection for deliveries, the products are approved by BarkBox's test pets. BarkBox's signup process is equally straightforward;
First, you need to fill in your online profile details
You also need to answer specific queries about your pet, particularly concerning their size and dietary needs.
Pick either the standard BarkBox full of plush toys or the fluff-free robust toys under the Super Chewer Box.
Finally, the subscription price depends on the length of your subscription, with annual subscribers enjoying up to $23 per month. One-month subscribers end up paying up to $35.
BarkBox's Products' Quality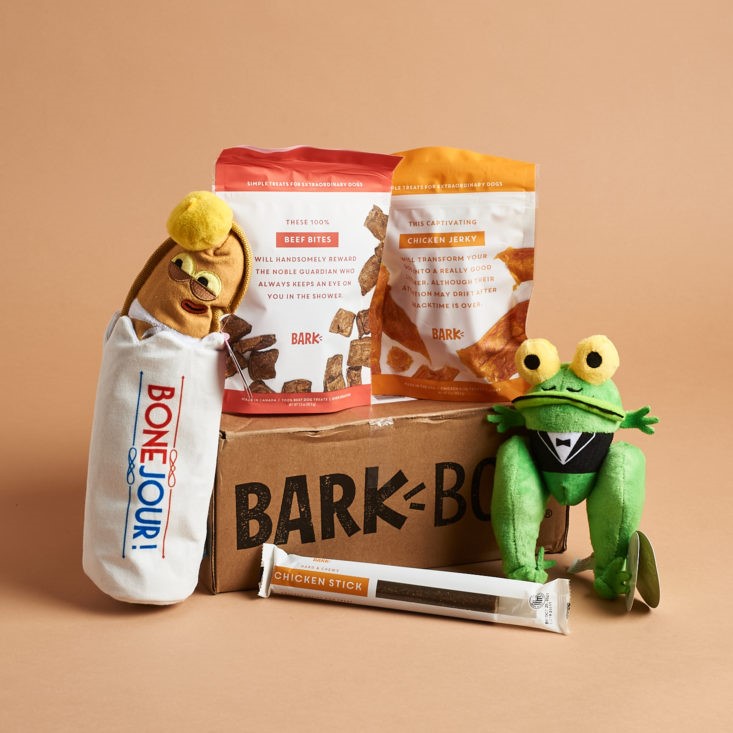 BarkBox doesn't undermine its product's quality. From experience, all their treat deliveries are 100% natural products and free of animal by-products. Their source companies use premium-quality ingredients for all treats.
Besides, their toys are robust, especially the Super Chewer Box, as they are ideally designed for large pups. Overall, the toys are fun and highly interactive to keep your pet engaged all day. Their products' quality goes beyond many buyers' expectations.
BarkBox treats are sourced from the US and Canada. However, chews are mainly sourced from New Zealand, Australia, South America, The USA, and Canada. BarkBox toys and accessories are mainly sourced globally. However, the company has a large team of experts who assess the materials' quality and testing pets that approve the goods' quality anytime they source them.
Ordering and Shipping with BarkBox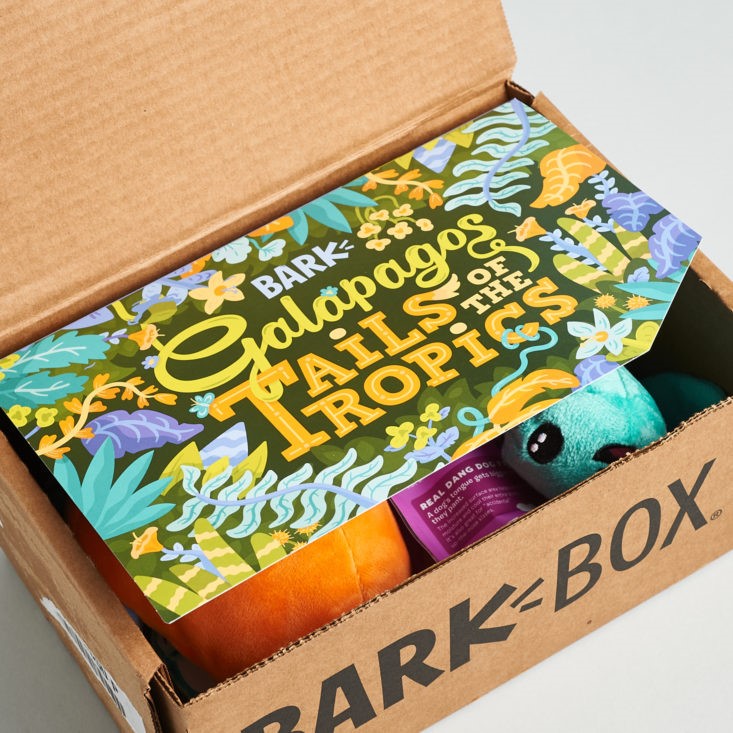 The company's site is user-friendly and easy to navigate for an experience worth remembrance. Placing an order is equally straightforward, with the site offering multiple email follow-ups, tracking, and support services.
The company's delivery time and response are great, with those living in the 48 contiguous states receiving their orders without incurring extra shipping costs. The site also offers a reordering option for your pet's favorite products. Finally, the platform is compatible with multiple operating systems and offers phone application and text message ordering services for your utmost convenience.
What We Liked About BarkBox
BarkBox's experience was beyond expectations. The site has multiple pros, including;
BarkBox donates 10% of its profits to organizations offering free and low-cost pet vet services.
BarkBox's treats, toys, and accessories are always of the highest quality. There's no doubt about that.
BarkBox provides custom boxes to fit your pet's size or diet preferences. Besides, there are custom boxes for allergic pets.
It is easy to reorder your pet's favorite toys or treats via the platform.
BarkBox does its best to ensure they use organic products such as wheat and corn and highly avoids processed products. They are also focusing on delivering single-ingredient pet products.
Their prices are relatively lower for annual subscribers.
BarkBox has a 100% satisfaction guarantee.
BarkBox Cons
BarkBox offers auto subscription renewal unless you cancel. Therefore, if you forget to cancel your subscription, a box will be sent at your cost.
BarkBox's plush toys aren't ideal for heavy chewers. Therefore, failure to buy the right toys for your heavy chewers can result in easy destruction of products or exposure to choking hazards.
Final Verdict
So, after using BarkBox's pet subscription box, are their services worth the cost? Well, cost-wise, BarkBox offers the ideal value for your money. This is irrespective of the subscription you pick. Their boxes are well-stocked and ideally valued to meet and surpass your expectations.
Besides, the quality of their products is beyond expectations. However, the greatest warning when purchasing via their website is ensuring you pick the Super Chewer BarkBox in case your dog is a heavy chewer. Selecting the standard BarkBox can be risky, as heavy chewers destroy those chews easily.
Finally, the other issue to be aware of is the auto-renewal subscription that you must deselect or cancel if you wish to discontinue receiving the products. All in all, BarkBox offers the ideal value for your money and ensures your pets get ideally interactive and engaging products for their utmost enjoyment.
BarkBox FAQs
As we conclude our review, let's briefly respond to some queries most buyers have concerning BarkBox.
When Does BarkBox Ship Products?
BarkBox's official shipping date is the 15th of every month. However, your purchase is shipped immediately after you order it. BarkBox takes about 2-8 days to deliver shipped products across the US' contiguous states.
How Do You Cancel BarkBox?
BarkBox only offers renewal cancelations. Therefore, semi-annual and annual subscribers cannot forgo their subscriptions midway, but they can stop automated renewal. However, to stop renewal, login to you BarkBox account, under all subscription, select your subscriptions and select "Cancel Renewal."