With the many pet food stores available online, you must be wondering which one of the many options accessible is worth the cost. Fortunately, today you get a chance to clear your doubts about Ollie Dog Food. Our detailed review of Ollie Dog Food will help you see if their services and products meet the stringiest dog food stores' quality, reliability, affordability, and credibility standards.
Ollie Dog Food
Ollie's unique focus on producing and delivering fresh dog food makes the company highly appealing to its users. Besides, their shipment is subscription-based. The company's main focus is food quality and freshness.
They barely deal with processed foods but instead substitute their diet with large quantities of real animal proteins, fruits, vegetables, and organ meats. They also add superfoods to the diet to bolster your pup's health.
The company believes that fresh food is highly nutritious and beneficial for your pet that processed kibble. However, it might be hard to state that fresh food is inherently better through our assessment, but it's undoubtedly the ideal meal for dogs with stomach issues and allergies.
Ollie Food's Constituents and Recipes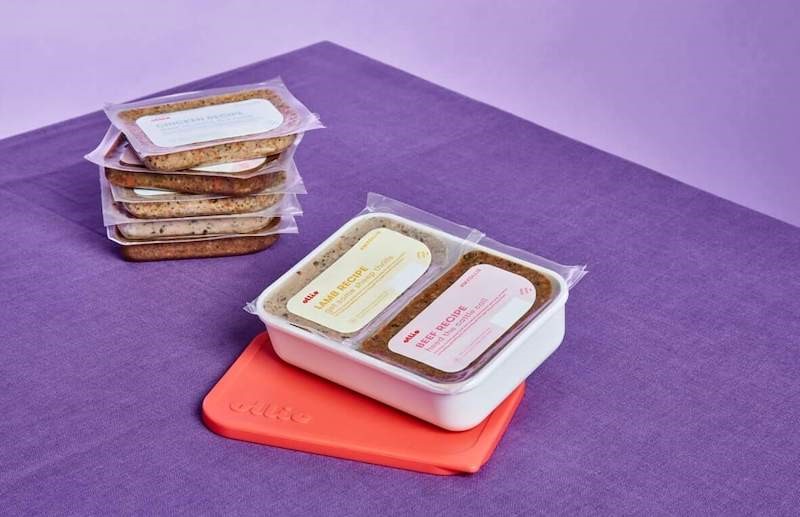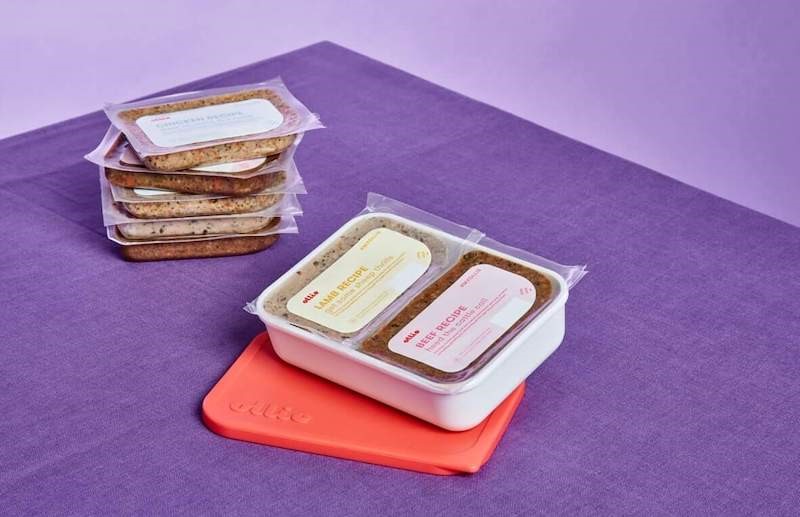 Below are some facts about Ollie Dog Food's ingredients:
Their major ingredient is real meat, with organ meat coming second.
The introduction of real and organ meat results in an ideally packed and protein-rich diet.
The diet is free of corn, wheat, and soy fillers
Veterinarians design Ollie recipes
The diets are full of veggies
Ollie minimizes processed foods and delivers human-grade meals
There are zero artificial flavors, by-products, and preservatives
Ollie also has an ideal grain-inclusive meal. Their chicken package comprises healthy rice quantities besides carrots, chia, potatoes, and other tasty constituents. Besides, Ollie has four exclusive recipes that pet enthusiasts can choose from, which include: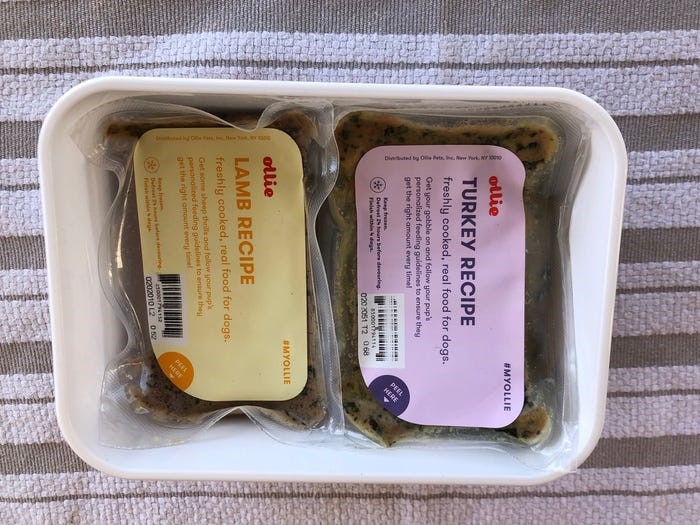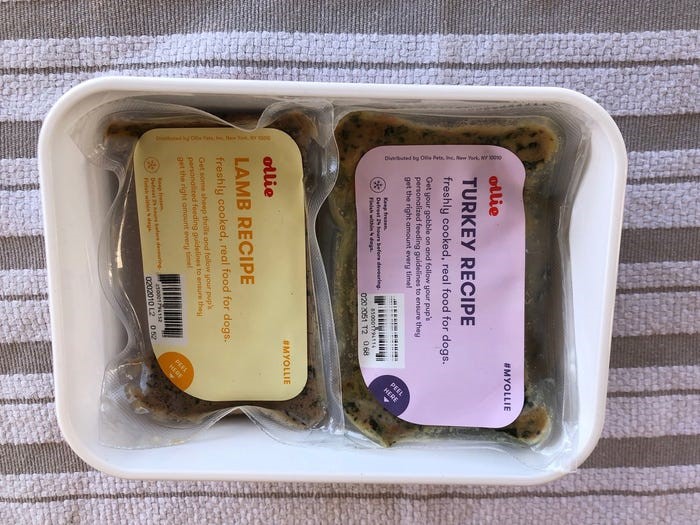 How Does Ollie Work?
Ollie delivers premium-quality dog food to continental US residents at the comfort of their door. The foods are ideally made to match the dog's age, breed, and weight. They also have meals for spayed and neutered dogs. The many dog foods that the platform delivers ensure that you get a meal with the right constituent and calories.
In addition, Ollie foods are ideal for puppies and adult pets. Ollie stands out from other dog food stores, majorly due to their four recipes developed by their expert nutritionists. They also majorly focus on whole meat recipes, with healthy doses of veggies.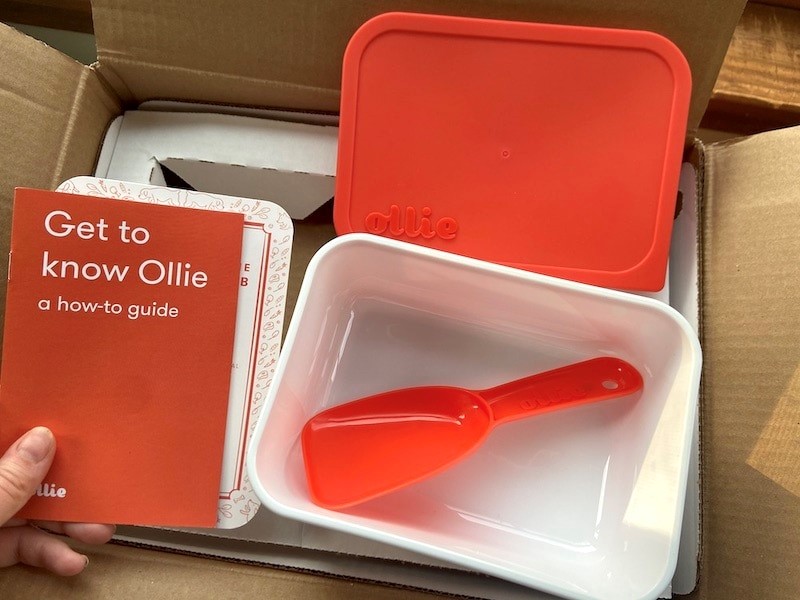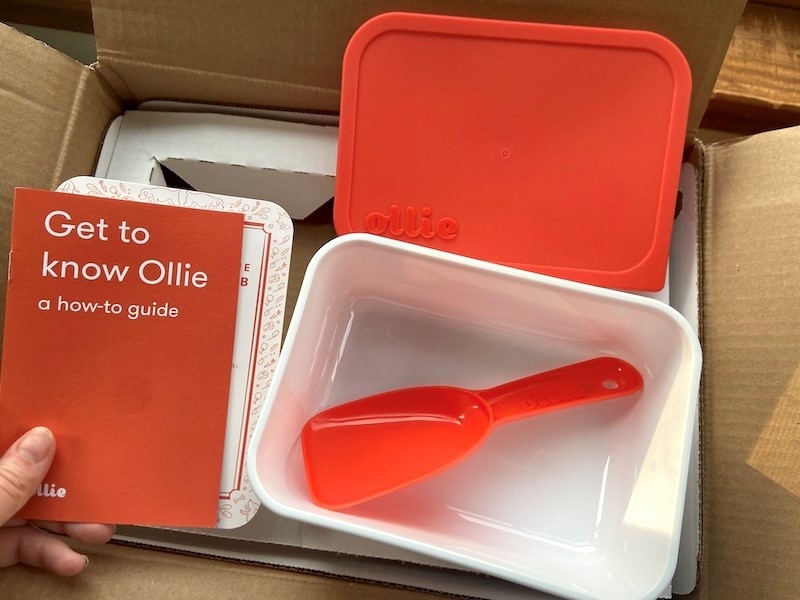 Ollie's Sign-Up Process
During my sign-up process, you will be required to answer some queries concerning your pet's age, activity level, breed, weight, and wellbeing, including previous cases related to allergies, if any.
You are allowed to pick any or all the four recipes offered. For a 20 lb. pet, the accessible meals here cost around $27-31 per week. The cost, however, varies depending on the recipes you choose. Immediately after successful sign-up, Ollie sends an email notification.
You also receive an email with the estimated delivery time and a notification once the package has been brought home. Therefore, there's little to stress about should be away during the package delivery.
Besides, the package is packed with ice and ideally insulated to keep the meal cold until midnight. Ollie also uses recyclable packaging materials that are easily disposable.
The company is subscription-based. Therefore, your order is automatically shipped to your desired location. Those who might travel to other continental US regions can opt to have their products shipped to their temporal locations.
In addition, you can skip or pause the shipment whenever you want. Finally, you are always advised to contact Ollie's support service by phone or email for subscription canceling.
Ollie's Unique Features
Upon package delivery, we noticed some unique packaging and product quality features missed in other sites. Some of these features include:
The box arrived with pre-portioned cold meals in art-tight seals.
The first box comprised airtight storage can, a serving spoon, a guide explaining the meal's storage procedure. These can help you store the food in a freezer for close to 6 months or five days in a fridge.
Ollie includes a custom feeding guideline for your pet to ensure a gradual and correct introduction of Ollie meals to the dog's diet to avert stomach upset issues.
Their products are easy to feed.
Their fresh foods are easily digested and beneficial to dogs with allergies and other health issues.
Ollie foods are fresh and of high quality.
The Cons
While there are no major cons in Ollie's foods, what you experience is similar to all people feeding their pets fresh foods. Here are some of the common challenges with the meals:
Fresh foods cannot be customized.
Fresh meals aren't ideal for dogs that love to graze, as leaving the meal for long makes it spoil.
You always need to remove the food from the freezer to your fridge to thaw.
Wrap Up – Is Ollie Worth the Cost?
Without a doubt, Ollie foods are of high quality and contain an impressive constituents list. Besides, Ollie foods are highly beneficial for pets that are picky eaters or with sensitive stomachs. Ollie also gives a 50% off for first-time buyers, which you can use to experiment if the meals are worth the cost.
Finally, we noticed that Ollie meals are an ideal response for pets with allergies. Also, we noticed that the pets loved the meals, which might be challenging trying to get back to feeding them with kibble, especially after getting used to fresh foods.
All in all, our experience with Ollie went beyond expectations, and we found Ollie to be well worth the cost. Besides, we highly recommend Ollie's fresh foods to all pet enthusiasts.
Ollie FAQs
Is Ollie Food Raw?
No. Ollie delivers gently cooked foods with minimal processing to maintain the meals' original nutrients.
How Much Does Ollie Food Cost?
For a 20 pound dog, you end up spending $27-31 per week, although the price depends on the recipes you choose.
Is Ollie Ideal For Dogs?
Yes, Ollie food is ideal for dogs. The foods are made with high-quality ingredients and fresh meat, veggies, and fruits. Ollie food also comprises impressive protein constituents, ranging from 35-44%.