Tailored Pet Nutrition: Your Ultimate Kibble Store
Every pet is special. Therefore, their meals should also resemble this specialty. Pet owners, however, find it challenging looking for personalized kibble that matches their pets' nutritional demands. Besides, those who get their best pet meals achieve this after spending more time on the internet and, in some instances, spending more money than they had planned. The simplicity in purchasing your ideal pet food lacks in many instances, but there is always a platform that never disappoints.
Tailored Pet Nutrition offers the desired simplicity and value for money when purchasing pet foods. The article provides detailed info concerning Tailored Pet Nutrition's matchless approach to see if it is the ideal fit for your pet-food needs.
Pros
Before getting started, here are the site's advantages over other pet food stores;
Customized/personalized recipes comprising premium-quality proteins such a bison, lamb, and salmon.
They are concerned and informed about your pet's wellbeing, especially on matters regarding allergies, that any other pet food store.
Automated shipping at no cost. Bear in mind that you can change or cancel the auto-shipping whenever you want.
Their packaging materials used are environmental-friendly.
100% satisfaction assurance
The meals are manufactured in the U.S
Cons
Despite the many advantages the site has, we were able to figure out one of their con, compared to other sites;
The meal's cost here is slightly high in comparison to other all-natural pet foods.
The Site's Top Features
Speedy and free delivery
Mail, chat, and phone support
Money-back assurance
All products are made in the USA
Designed by top pet enthusiasts and experts
Approved by veterinarians
Premium-quality globally-sourced constituents
A chance to pick your pet's meal based on their personalized needs or health issues
The Product's Cost
The prices of Tailored Pet Foods vary depending on the pet's size and age. Here's an example of the cost of Tailored chicken blend for a 1-year mixed-bred male pup. The recommended weight for the meal is 38 pounds, and the pup should be healthy, with no cases of allergies or health issues.
$20 – 8 pound bag for an approximately 1-week supply
$39 – 20 pound bag. Ideal for 3-weeks
$67 – 40 pound bag. lasts for about 6 weeks
You'll also get free shipping for any of the above product
Besides, the site offers "Add on Chews" depending on individual preference. The cost slightly differs from the rates mentioned above, although the extra cost can be shielded by subscribing, as you earn a discount.
Discounts
Tailored Pet Nutrition has incredible offers for first-time and subsequent buyers. You can save up to 20% of the product's cost upon subscribing during your first purchase. Subsequent buyers under subscription can save up to 50% of the meal's cost.
How to Make Your Purchase at Tailored Pet Nutrition
The site offers a stress-free and time-saving opportunity for anyone looking for the best meals for their pets. The support team is readily available to help you whenever you're stuck. Here's the simple process to follow during your order:
1.You'll be required to respond to a few queries concerning your pup's age, size, wellbeing, breed, ingredient sensitivities, and activity level.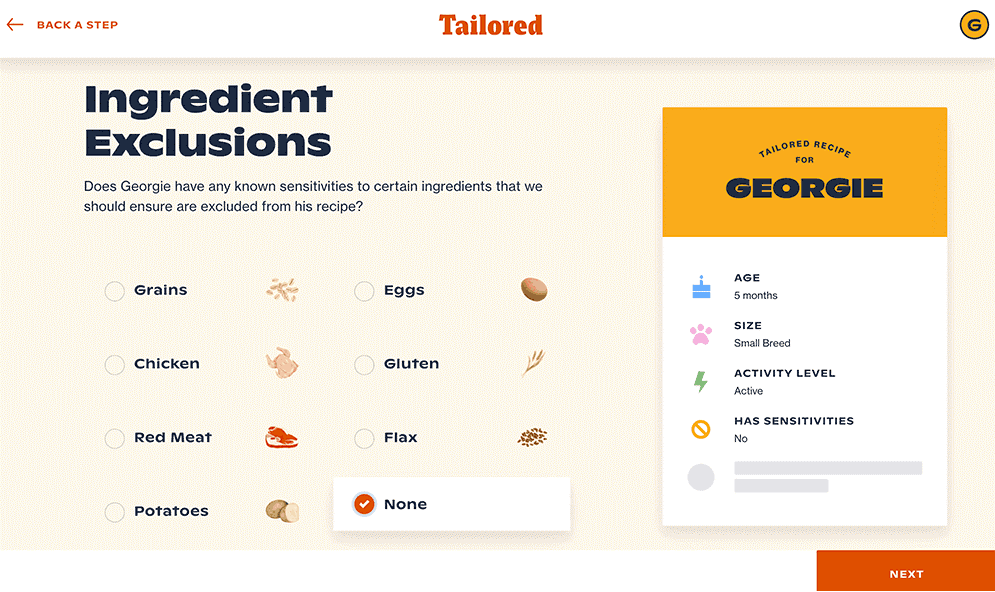 2. After the data input, you'll get a personalized, specialist-formulated kibble that ideally matches your pet's health needs. The provided data also reveals the constituents' benefits. You can narrow down your analysis for each ingredient and learn about their quantity in the percentage of the whole meal.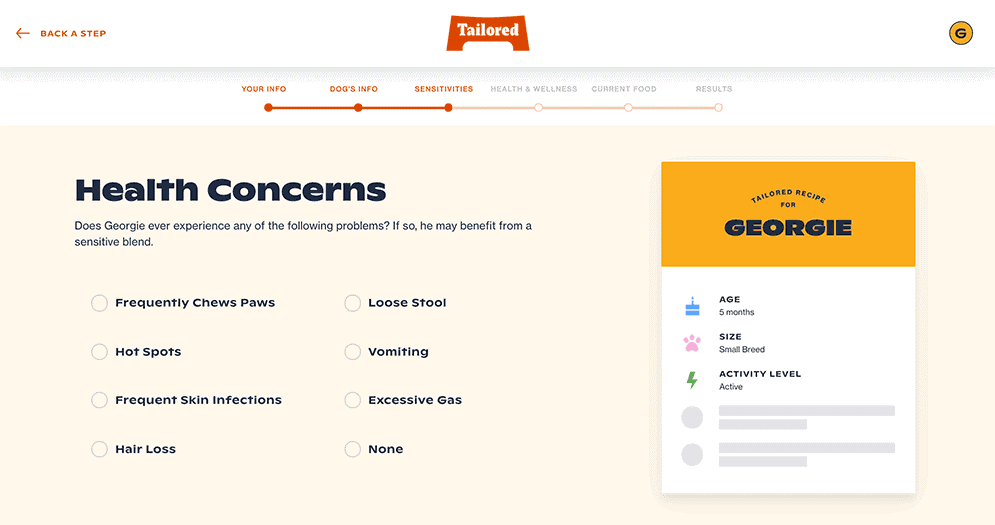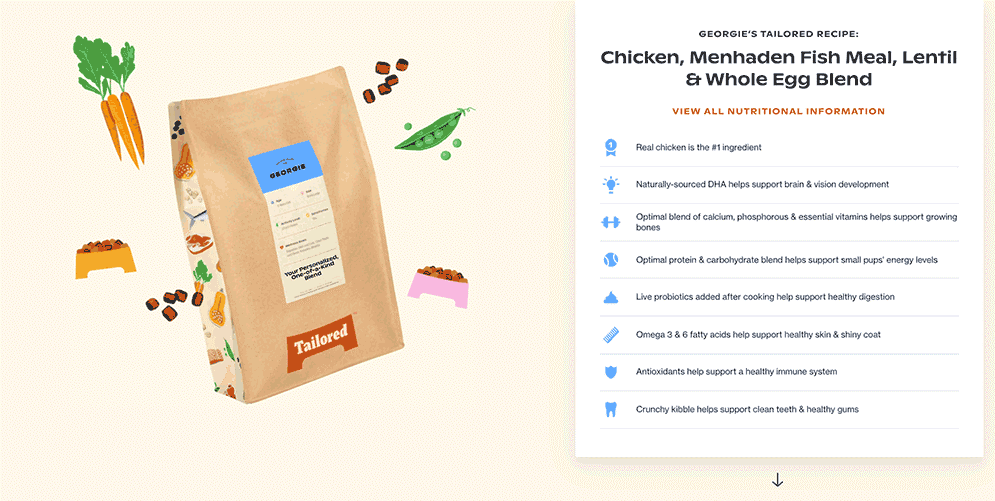 3. The seller ships your pet meals at no cost. You can pick one-time delivery or subscribe to subsequent shipping at your preferred frequency.
4. You're assured of 100% satisfaction; your pup either loves it, or you receive your cash back.