When engaging in online contests, reviews play a critical role by helping you learn about your preferred site's legitimacy, pricing, and process of enrolment. Unfortunately, the reviews can sometimes be overwhelming, especially when you read them from several contradicting websites. However, with our comprehensive review of thecutekid.com, you will get all the info you need about the site in a single click, including what the site entails, its legitimacy, and how to enter the contest. But before that, we will cover what a baby photo contest is in detail.
The Cute Kid – Baby Model Photo Contest
So, What is a Baby Photo Contest?
There are two main types of baby photo contests. First is the photography contest. The contest is for the photographer specializing in baby photography based on the photographer's skills. Second is the model contest. This involves the baby and their parents, and the contests are based on the baby's cuteness and physical appearance.
How Do These Contests Work?
Baby contests are mainly run or sponsored by companies. Through promotion, the contest gets its participants who submit photos hoping that their submission will win. The winners are determined by votes or judges' selection and are awarded cash prizes or other forms of rewards, for instance, college funds.
Moreover, some of these contests are free, whereas others have a registration fee for participants. In free contests, the sponsoring companies still gain. They make money by saving their marketing money, and at the same time, achieve major coverage, huge exposure, and continually build their brand. Thus, free or charged contests always end in a win-win situation.
The Cute Kid Contest: What is the Cute Kid Contest?
The Cute Kid is a free baby photo contest, with rewards of up to $25,000 for the annual Cute Kid of the year winner. The platform has both paid and free contests. The Cute Kid People's Choice Gallery is free, and contestants may send as many photos as they like each month. However, the Cute Kid of the Year contest charges a $19.95 registration fee.
How do you win the Cute Kid Contest?
Members, family, and friends vote for the Cute Kid contest winners. However, the company's professional judges selected the Cute Kid of the Year winner with years of experience as professional photographers and casting agents.
Moreover, the winners are judged based on their:
Appearance
Charisma
Expression
Image concept/setting
That "special something."
How the Contest Works
The contest involves three steps:
Upload a Photo
Share Your Photo
Win big
Moreover, here's a link to directly join the contest. So in 3 simple steps, you stand a chance to win up to $25,000.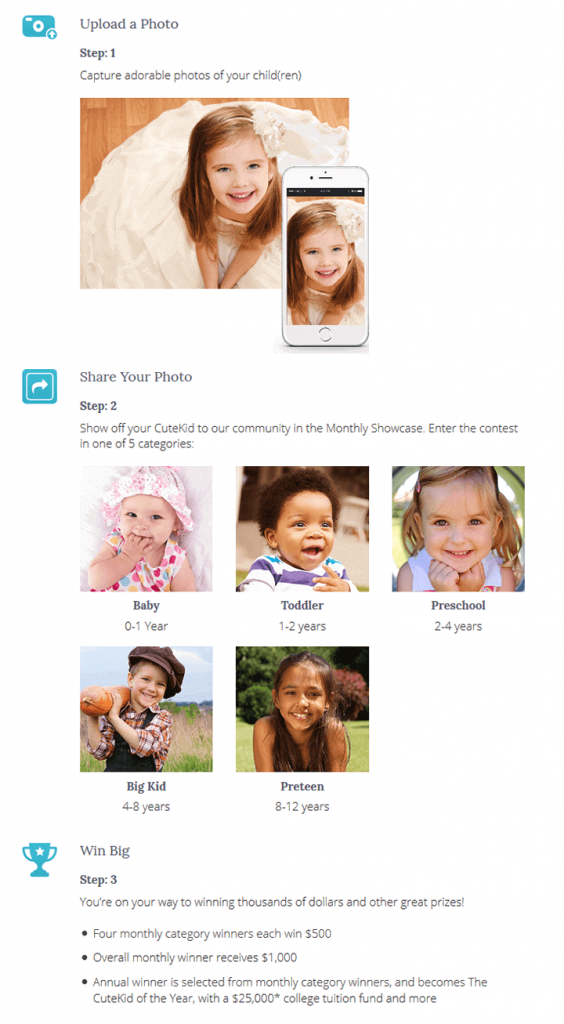 So, Is The Cute Kid Contest Legitimate?
Yes, the cute kid contests are legitimate. However, it is important to note that:
Although the Cute Kid is not a kid modeling agency, they have professionals from modeling agencies who look at the contest entry photos and even act as judges.
There have been many Cute Kid of the Year winners, dated back from 2011.
After assessing most online reviews, we were surprised that many people thought the company was a scam. However, we also came across some testimonials from parents whose babies had won. We noticed that the competition was high during our assessment, which made some people think that the company was a scam since some had not won.
Furthermore, we noticed that the company has relationships with big brand names, like Gerber Life and Sesame Street.
The company is also a property of Lifescript, which was founded in 1999, which is an old company, offering users trust and peace of mind.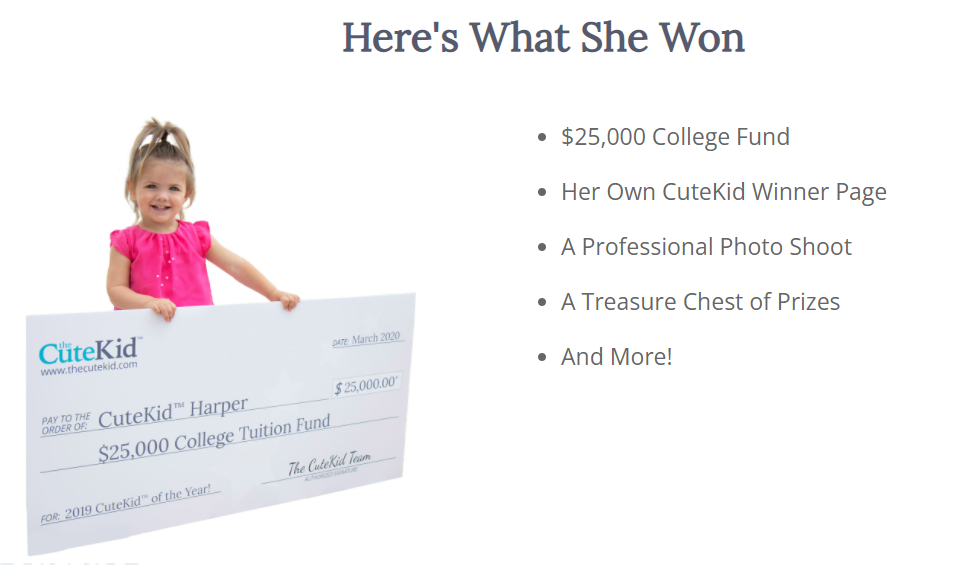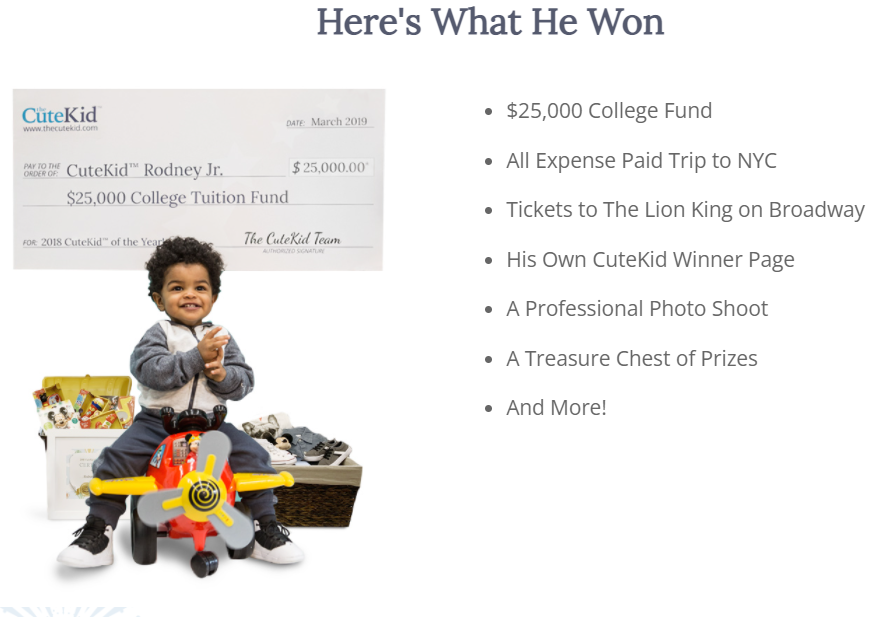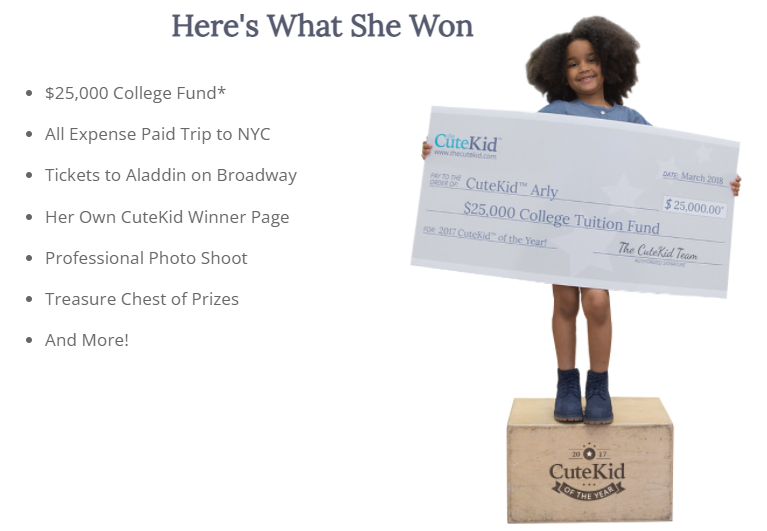 All in All, We Were Interested in Finding Out How Cute Kid Compares to Other Kid Contests
The comparison demanded we pick a free legit baby contest, and we picked Gerber baby contest during our search. We then reviewed the companies' advantages over the other and to our surprise, there were no big differences between the two companies.
Check out the cutest kids in the world and enter your child's photo for a chance to win!
Advantages
Professional photography is allowed in the Cute Kid contest, while the Gerber baby contest doesn't.
Cute Kid contests are monthly, while Gerber engages in annual contests. Moreover, there is no photo limitation in the Cute Kid, although Gerber requires photos taken within 30 days of submission.
The freedom to vote is guaranteed in the Cute Kid. However, Gerber revoked voting from 2017, leaving judges to pick contest winners.
Cute Kid contests are open for babies to pre-teens (0-12 years), whereas Gerber contests are only open for babies and toddlers (0-4 years).
At times, Cute Kid winners get modeling contracts with model agencies.
Disadvantages
The two companies differ in rewards sizes, as the Cite Kid of the Year wins $25,000 college tuition, compared to Gerber Photo Search's $50,000 cash prize.
The Cute Kid contest has a $19.95 registration fee, while the Gerber Photo Search is completely free.
Conclusion
With our comprehensive analysis of the Cute Kid, we believe the site is worth it, and you should give it a try. However, it is worth noting that the Cute Kid contest is highly competitive, especially given how the competition is open to babies and pre-teens. Moreover, the contestants can send as many photos as possible, and the winners are voted by members, family, and friends, although the judges pick the annual winners.
Unfortunately, the Cute Kid's registration fee and high competition make people think it is a scam, especially because other sites, such as The Gerber, engage in free contests and give bigger rewards. All in all, those interested in a free contest should try the Cute Kid People's Choice Gallery. However, the Cute Kid of the Year contest is equally a great trial, especially given its considerably great prize.
Do You Have A CuteKid? Enter your child's photo and receive a years subscription to Parent magazine! Click Here!